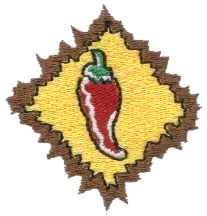 Here's an idea: Embroider our Chili Pepper design on one of our Fingertip Towels.

*See below for a different design idea - stitch three chili peppers together in three different colors.*

6,173 stitches
2.17 x 2.20 inches
6 colors, 6 thread changes



Color Changes:

1. Golden Yellow
2. Chili Pepper Red
3. White
4. Green
5. Brown
6. Black

Click on desired format to download a zipped file of the design along with color information.


Note: If you are having trouble downloading the designs (i.e. shows that a file is downloading, but it won't finish) try right-clicking on the format you want to download, then choose "save target as" and save the file to the folder you choose on your hard drive.




Site copyright Embroiderthis.com. All rights reserved.
Embroider This! Offers a Huge selection of Embroidery Blanks, Machine Embroidery Supplies, and Embroidery Designs for both Home Machine Embroidery artist and Professional Embroiderers! Many Embroidey Gift Items. Along with our full range of Embroidery Blanks we offer a great selection of Embroidery Thread, Software & Designs and other Machine Embroidery Supplies. New Free Embroidery Designs added monthly. Our Goal is 100% Customer Satisfaction. We host a Fully Secure Online Shopping Cart to make your experience Safe, Convenient, & Simple.