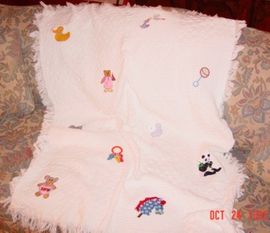 Kathy embroidered a Cuddleblocks Baby Blanket using a variety of baby designs on every other block. She plans to add the baby's name and birthdate to one of the empty blocks and give as a gift.



Site copyright Embroiderthis.com. All rights reserved.
Embroider This! Offers a Huge selection of Embroidery Blanks, Machine Embroidery Supplies, and Embroidery Designs for both Home Machine Embroidery artist and Professional Embroiderers! Many Embroidey Gift Items. Along with our full range of Embroidery Blanks we offer a great selection of Embroidery Thread, Software & Designs and other Machine Embroidery Supplies. New Free Embroidery Designs added monthly. Our Goal is 100% Customer Satisfaction. We host a Fully Secure Online Shopping Cart to make your experience Safe, Convenient, & Simple.